We are booked in for the next test session on Sunday 18th July over at Rye House. This test session I think will be a hard one in some ways because it's scheduled for 6 hours duration and there are almost 30 karts already registered for the day. But in preparation for the session, as well as Fixing up the kart, we have purchased a few other bits to help us go faster. These parts were all purchased once again from Dartford Karting. I must say I cannot fault the speed of service from this place. In terms of go faster bits, we have purchased a new chain (I will run through length choice later), chain protectors, 2020 spec exhaust, breather system and new axle bearings. The reason for the new chain and protectors is the new 82 tooth sprocket we purchased from Kart Shop London at Rye House.
The eldest was excited about the exhaust the most. He was aware this would sound better than the standard unit, and it apparently releases a bit more power from the engine. Needless to say, we started with this.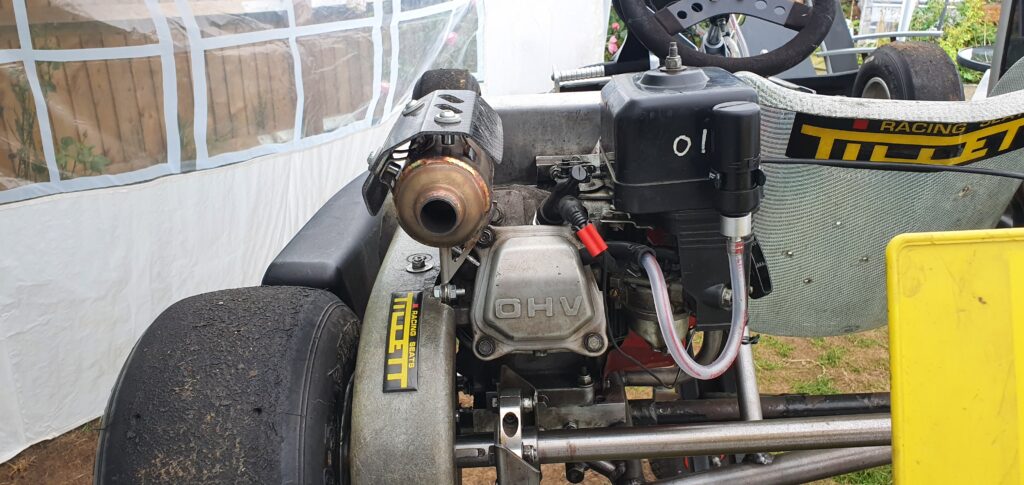 In the picture you can see that we have added the new exhaust, along with the breather bottle. This breather bottle is mandated because apparently, people were purposely burning oil through the air intake to increase power. Wow, OK so karting IS like F1! I was hoping that I could just run the pipe straight in to the valve cover, but this wasn't possible. As a result, I just connected it to the existing breather hose and clamped it with a zip tie.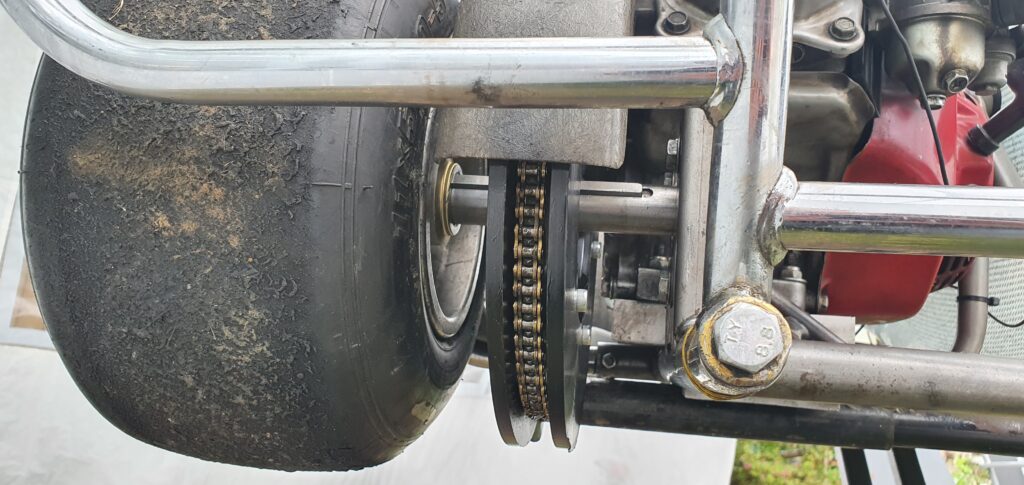 There is something nice about the brand new sprocket protectors, we will see how long they stay this way. The main reason for the new protectors was because of changing to an 82 tooth sprocket. The old protectors were the same size as the sprocket/chain combination. This will be overkill if we need a smaller <80 sprocket but hey ho. It's not possible to see the new axle bearings. I should probably have grabbed a video showing just how noisy they were! They did sound rough and the new bearings are much better.
We go in to testing this weekend slightly optimistic of improved times. We know the gearing will change things as it should accelerate much better out of the corners, the new exhaust should allow it to rev better as well. We really need to understand more about tyre pressures and setting the kart up, I will try and get some info this weekend around it all. It's set to be a busy one, hopefully the eldest will follow some of the quicker kids and get more comfortable with things.
(BTW Yes, I know I posted this AFTER we went, will do another post with the report)